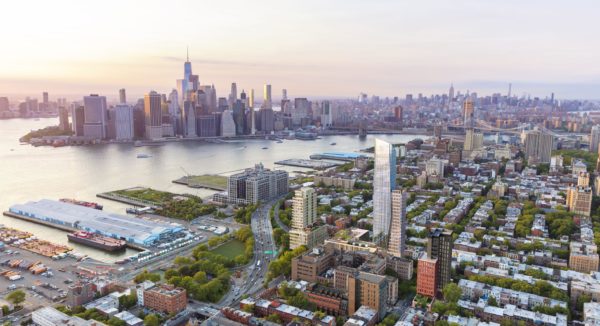 We Build Neighborhoods
Fortis Property Group
Development
Fortis Property Group is a world-class visionary New York–based real estate developer creating place making benchmark residential projects that transform neighborhoods and enhance the cityscape. The projects are united by their bold, yet thoughtful approach to design, craftsmanship, and amenity programming. Recent transformative developments include a block-long luxury development in Hell's Kitchen, 540 West; the first all-glass residential tower at The Seaport District, 1 Seaport; 30 Henry; The Atelier in Williamsburg; and the restoration of the landmarked Beaux-Arts building into The Polhemus Residences and Townhouses. River Park promises to be their signature accomplishment uniting Cobble Hill with the New Brooklyn Waterfront.
1 River Park
FXCOLLABORATIVE
Architecture & Interior Design
FXCollaborative leverages broad expertise in architecture, interiors, and planning to enrich our world with responsible, intelligent, and beautiful design. The firm's holistic approach integrates client aspirations, an urban sensibility, and a celebration of the craft of building. FXCollaborative's work ranges from the scale of individual buildings and interiors—office towers, multi-family residences, cultural facilities, workplaces, and K-12 and higher-education institutions—to the city as a whole, addressing infrastructure and transportation.
2 River Park
Hill West
Architecture
Hill West Architects is the industry-leading, New York City based architecture and design firm dedicated to the creation of the highest quality multi-use buildings. Hill West, founded by partners L. Stephen Hill and David West, is a collective of over 100 of New York's most talented design professionals deeply experienced in the planning and design of high-rise residential and hospitality buildings, retail structures, and multi-use complexes. Together the team creates buildings that are beautiful yet efficient, contextual yet fresh, and timeless yet reflective of the present moment. The firm has shaped the New York skyline with its expansive portfolio of over 80 project comprised of 27 million square feet and over 19,000 units. Designs include 1 Seaport, Skyline Tower, Tower 28, 363 and 365 Bond, and North Park Tower.
5 River Park
Douglas Romines
Architecture
Romines Architecture shapes contemporary building designs that embody the cultural expression and functional needs of their inhabitants and reflect the rich heritage of the local context. Our diverse team of architects and designers shares the conviction of creating timeless, efficient, and harmonic architecture that is distinct yet familiar.
Whitehall
Interior Design
Whitehall is a Manhattan based design firm specializing in luxury interiors and custom furnishings. The firm creates unique experiences designed to inspire, while maximizing the possibilities of each space. The Whitehall team delivers elegant and thoughtful design while also providing expertise in detailing and constructibility. Drawing inspiration from contextual relevance, natural materials and living finishes, as well as modern art, design, music and pop culture. Marrying traditional design elements with modern materials, each Whitehall project takes on an individual expression of aesthetic.
Douglas Elliman
Exclusive Sales & Marketing
Douglas Elliman Development marketing, a branch of Douglas Elliman real estate, ranks amongst New York City's largest and most prominent sales and marketing firms. Drawing from decades of experience the Elliman team offers a complete suite of real estate services, market specific knowledge and comprehensive in-house research. Through a strategic international partnership with Knight Frank residential, the world's largest privately owned property consultancy, the company also markets their properties to global audiences in 43 countries.
Williams New York
Creative Branding
Williams New York is an internationally recognized branding and marketing company with over twenty years of experience in creating some of the most recognized and valuable brands in the real estate, retail and hospitality sectors. The global portfolio includes iconic developments in the Americas, Asian Pacific, Middle East and Europe. The company increases value by developing tailored and compelling brand experiences that encom pass film, photography, illustration, 3D rendering visualizations, interactive digital, print, sales experiences, and social media content. More than branding buildings, Williams New York specializes in place making, elevating and defining some of the most significant neighborhoods around the globe.